Fighting for our servicemembers' rights, so they can fight for ours.
Please consider making a fully tax-deductible donation today.
---
Saturday, December 16, 2017
---
NEW OP-ED ON
HUFFPOST AND DAILY KOS!

RODDA EXPOSES DISHONESTY
AT MAXWELL AFB, BLASTS
SHAMELESS DISTORTION
AND LIES BY JAY SEKULOW OF AMERICAN CENTER FOR
LAW AND JUSTICE (ACLJ)

"Air Force Museum Puts Admittedly Inaccurate Story Back On Display; Sekulow's ACLJ Launches Attack to
Defend Exhibit"
Friday, December 15, 2017
Back in October, the Military Religious Freedom Foundation(MRFF) received several emails regarding an exhibit on display at the Air Force's Enlisted Heritage Hall, a museum at Maxwell Air Force Base in Alabama showcasing the history of the service, accomplishments, and sacrifices of enlisted airmen through the decades.
The exhibit in question consisted of a mannequin in an airman's uniform standing next to a Christian chapel flag with a sign telling the following story:
"This Christian Flag is significant because it was rescued from the ruins of an American Chapel that ultimately found itself situated in the Demilitarized Zone separating North and South Korea. In 1960, a young A1C Luke Holcomb, was assigned to the post along the Demilitarized Zone. From his duty section he could see what remained of the chapel and was fascinated by the site [sic] of the U.S. and Christian flags leaning against the rear corner of the building. One night, he and three friends swam across the river separating them from the chapel, and at the risk of death, they liberated the flags. It was his wish that this flag be displayed in dedication of the Soldiers, Sailors, Marines, and Airmen who risked their lives during the Korean Conflict."
The emails received by MRFF expressed objections to this exhibit for two reasons, one of which was a common reason for objections to such an exhibit — that an exclusively Christian symbol was being displayed in dedication of all service members who served in the Korean War, many of whom, just like today, were of other religions or no religion.
But the second reason that this exhibit was objected to was not about religion; it was about historical accuracy – that the story presented by the museum about the history of this so-called "DMZ flag" seemed completely implausible if not downright historically impossible. 

[...]

The problem of the museum's promoting of this historically dubious story seemed to be taken care of as of October 27 when, after contacting the museum, I received an email from the director of the Air Force Enlisted Heritage Research Institute (AFEHRI), CMSgt Emily E. Shade, in which she agreed that the story seemed inaccurate and said that the sign had been removed...
[...]

The ACLJ's modus operandi for launching one of its petitions is to publish an article on its website in which whatever facts need to be distorted or lied about are sufficiently distorted or lied about; put a link to the petition at the end of the article, urging people who have just read the distortions and lies in the article to sign the petition to defend whatever the article purports to be defending; and promote the same distortions and lies and petition on the Jay Sekulow Live radio show. The petition is then repeatedly posted by Jay Sekulow on his Facebook page, which has over 4 million followers, with some commentary from Sekulow, which, in the case of petitions against MRFF, typically includes Sekulow's calling MRFF "angry atheists" or "anti-Christian zealots," in spite of Sekulow's being fully aware that MRFF is neither an atheist nor an anti-Christian organization, and that 96% of MRFF's clients are actually Christians. But words like "angry atheists" and "anti-Christian zealots" are obviously more effective for drumming up outrage among potential petition signers (not to mention potential donors), so, being the fine "Christian" that he's made a career out of claiming to be, Sekulow simply disregards that pesky commandment about not lying.
"In the latest attack by Mikey Weinstein and the Military Religious Freedom Foundation (MRFF), the target is not only the United States military (MRFF's venomous specialty) but is also an attack on history, in this case the history of the Korean War."
They then conflate the dubious story of the airman retrieving the so-called "DMZ flag" in 1960 with a completely unrelated true story in the exhibit...
[...]
When the ACLJ came out on November 29 with its article and petition regarding this exhibit and attacking MRFF, I wanted a photo showing the entire exhibit in one shot to use when rebutting the ACLJ's lies, so MRFF asked someone near the museum to go there and take a few photos.
When I received these photos, which were taken in the first week of December, I was extremely shocked to see that the sign telling the dubious "DMZ flag" story was back in the exhibit, since, as explained earlier, I was told over a month earlier in an email from the AFEHRI"s director, CMSgt Shade, that she agreed that the story seemed inaccurate and that the sign had been removed.
[...]

---
---
COURT RULING ALLOWS TRANSGENDERS TO ENLIST IN U.S MILITARY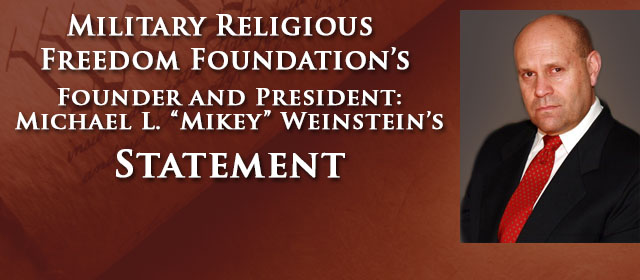 Monday, December 11, 2017
MRFF commends U.S District Court Judge for the District of Columbia, Colleen Kollar-Kotelly, for wielding the Constitutional powers of check and balance to deny the Trump administration's attempt to further trample transgender rights in the U.S military.  January 1st, the Pentagon will begin accepting transgender recruits. MRFF currently represents 12 Transgender servicemembers/veterans and while MRFF maintains we have an arduous road ahead of us, this small victory supports the future's next steps towards equality. Kollar-Kotelly's actions, her noble adherence to the Constitution, is something sorely missing from our Commander in Chief, and from people of the same ilk as the bigoted, Christian-supremacist USAF Chaplain Sonny Hernandez (currently under official Inspector General investigation by Pentagon officials pursuant to MRFF complaints), who has publicly voiced the notion that there's "no such thing as Transgenderism."  MRFF stands behind the Constitution, and we will continue to back each and everyone who earnestly does the same.  At the same time, as we did earlier this year with Hernandez, we will continue our fight for separation of Church and State by exposing those in the military spewing Fundamentalist religious hatred and by protecting our clients be they LGBTQ, Atheist, religious or non-religious.
---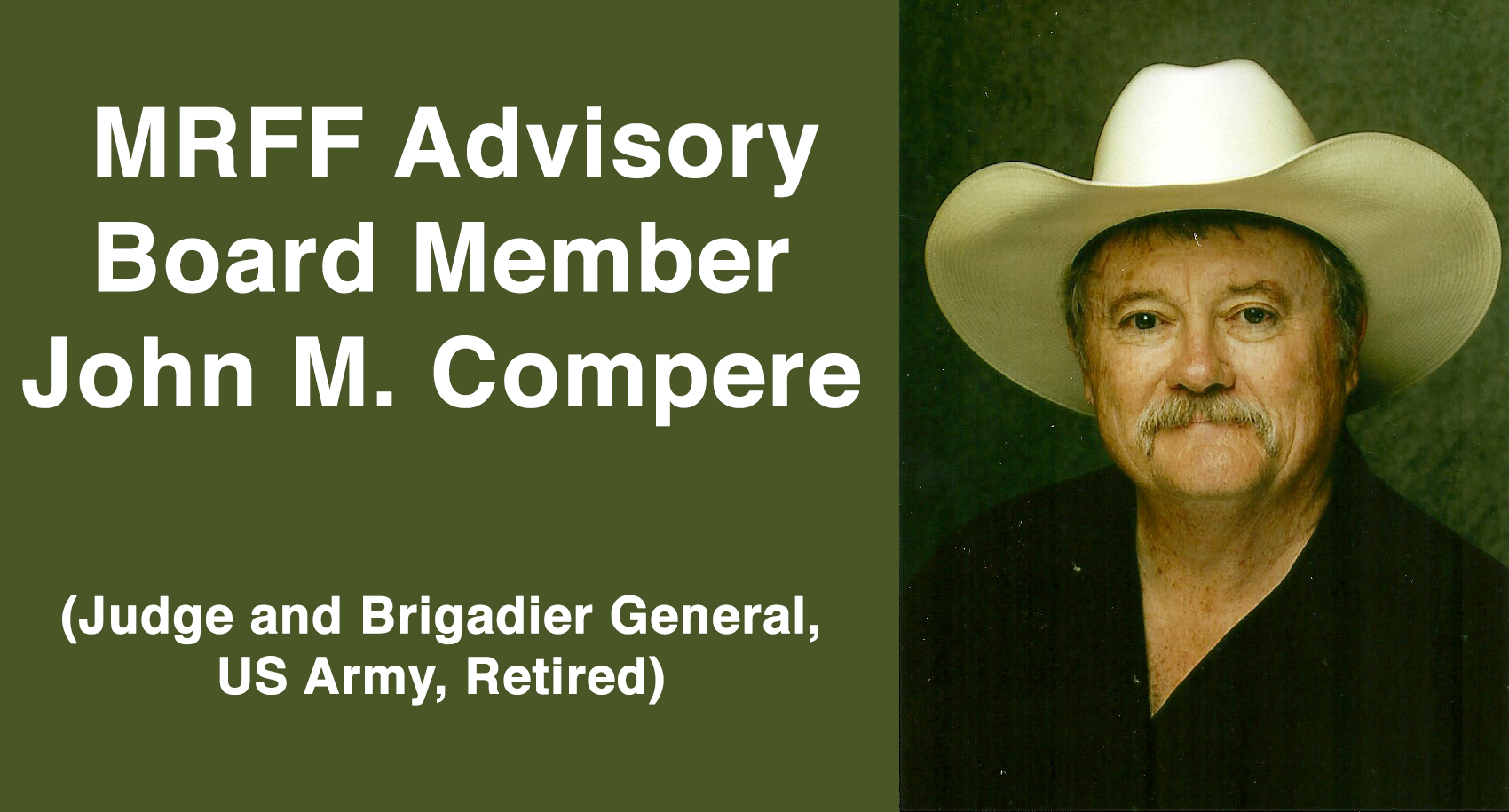 "Alabama's Awesome and Admirable Awakening"
Thursday, December 14, 2017
Distinguished Doug Jones' victory over extinguished Roy Moore for United States Senator ensured Alabama's membership in 21st Century America. Jones ran a positive campaign representing all Alabama citizens whereas Moore ran a negative campaign representing those who shared his regressive religious beliefs.

[...]
---

We receive an enormous amount of emails at the Military Religious Freedom Foundation, both from our supporters and detractors.Through "MRFF's Inbox", we share some of these emails with you.
"L'dor va'dor-MRFF Enables Daughter To Achieve
Pilot Dreams"
From: Military Pilot's Mother's E-Mail Address Withheld
Subject: L'dor va'dor MRFF Enables Daughter To Achieve Pilot Dreams
Date: December 10, 2017
To: Mikey Weinstein
[...]

Our family will never forget what the MRFF did to enable these dreams of three generations of our family to be realized. Our hearts filled with love and thanks go out to all of you at the MRFF who help so many like us. Happy Hanukkah and Merry Christmas to the people and heroes of the MRFF.
[...]
"Proud Rural Jew"
From: MRFF Client's E-Mail Address Withheld
Subject: Proud Rural Jew
Date: December 12, 2017
To: Mikey Weinstein
[...]

That's why groups like the MRFF are so important! Because who can you
call when bigotry strikes its ugly head? When I was considering the
military, and I had questions about religious observance in uniform, I
contacted the MRFF! And they responded more quickly and with more skill
than I could have ever dreamed of! Mikey walked me through the in's and
out's of the issue I was facing, and the possible solutions to the
problem I was facing.

[...]

---
---
SUPPORT MRFF!
Your Generous Support Allows us to Continue
our Fight in the Courts and in the Media