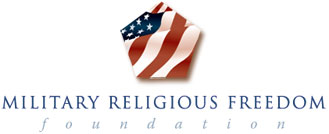 Fighting for our servicemembers' rights, so they can fight for ours.
Please consider making a fully tax-deductible donation today.


---
Friday, December 8, 2017
---
MRFF AND AMERICANS UNITED BRING LIVELY PANEL ON TRUMP, CHURCH/STATE SEPARATION TO PHILADELPHIA

WATCH MIKEY IN PHILLY PANEL DISCUSSION & Q&A,
CLICK ABOVE
Held Wednesday Evening, December 6, 2017
At Free Library of Philadelphia
Montgomery Auditorium
See Below Flyer Which Promoted Event


---
MARINE SERGEANT ENDORSES "SPIRITUAL FITNESS" IN ABSURD STATEMENT TO
MARINE CORPS TIMES
'Spiritual fitness' not just about God, sergeant major of the Marine Corps says
Monday, November 27, 2017
By: Jeff Schogol, Marine Corps Times
Date: November 27, 2017

The Marine Corps' senior enlisted leader defended the Corps' spiritual fitness initiative against critics who claim the Marines are trying to promote religion within the ranks.
Sergeant Major of the Marine Corps Ronald Green said Monday that spiritual fitness is about Marines recognizing that they will put their lives on the line for each other, despite any differences they may have had before joining the Corps.

"We set aside all of those differences to go forward and be willing to die for the very people that we love, for the nation, the Constitution and the flag that we honor," Green said. "That's the unique thing."
[...]
---
AMERICAN CENTER FOR LAW AND JUSTICE (ACLJ) WRANGLES THEIR OVER FOUR MILLION FOLLOWERS TO PETITION AGAINST MRFF/MIKEY!
Defend the Chaplain Flag, the Cross, and Christians Who Serve Our Nation
Thursday, November 30, 2017
Angry atheists are attacking the Military Chaplain Flag and the Cross.
Mikey Weinstein and the Military Religious Freedom Foundation (MRFF) – the radical anti-Christian group that calls Christians in the military "monsters who terrorize" – has just attacked a Korean War memorial in an Air Force base museum that includes a Chaplain Flag. The flag includes a Cross because the chaplain and his assistant being honored were Christians.

[...]
---
AIR FORCE TIMES ARTICLE REPORTS CHRISTIAN GROUPS DEFENDING
BIGOTED COLONEL

Christian groups battle to save colonel's career

Thursday, December 8, 2017
The Family Research Council and the American Family Association on Wednesday delivered a petition to the Pentagon demanding that the Air Force reverse punitive measures taken against Col. Leland Bohannon, effectively ending the career of the highly decorated officer.

[...]
---

We receive an enormous amount of emails at the Military Religious Freedom Foundation, both from our supporters and detractors.
Through "MRFF's Inbox", we share some of these emails with you.
MRFF Advisory Board Member Mike Farrell Dismantles Detractor's Ignorant Email



"Business"
Original Email to Mikey Weinstein from MRFF Detractor

From: [Name withheld]
Subject: business
Date: November 29, 2017 
Dear Mike,
Stop overstepping your bounds and making calls on things that are just not your business. I'm not sure who appointed you judge and jury on matters of God but I can tell you that one day you will stand before that God and have to make account. This is in reference to the historical display that has a flag, appropriate for the display, with the account of a war hero Chaplin. Leave it alone. It truly is non of your business.
Kind Regards,
[name withheld]

[...]

---
SUPPORT MRFF!
Your Generous Support Allows us to Continue
our Fight in the Courts and in the Media